Recap ECSF Game Two. Penguins 6, Capitals 2. Pens lead series 2-0.
Let me start out by saying one thing and one thing only.... ohhhhhh mannnnnn. The Penguins managed to take Game Two in D.C. last night by a score of 6-2 and now have a commanding 2-0 series lead as the series shifts back to Pittsburgh. 
They say a series truly doesn't begin until you lose at home, well the Caps have now lost at home twice and it's not going to get any easier for them. Carl Hagelin made his return to the Penguin lineup last night and Marc-Andre Fleury was brilliant once again. Sidney Crosby once again demonstrated that he is not human, while Jake Guentzel continues to make a name for himself and break records.
Once again the Penguins started off slow, looking borderline lifeless in the first period. I'm pretty sure at one point, shots were 10 - 1 in favor of the Capitals.  It didn't help that the Penguins found themselves in the box twice, but hey their third penalty was magical.
Let's pick it up very early in the second period. Jake Guentzel takes a weak hooking call against 'American Hero' T.J. Oshie and the Penguins have to kill their third penalty of the game. Matt Cullen was like, "lol nah" and found himself on a breakaway. 
 Matt Cullen makes it 1-0, an unassisted goal just 1:15 in the second period.
The 1-0 lead didn't last long. Just under a minute later Matt Niskanen cashed in on the power play to tie the game at 1. In fairness, if Matt Niskanen didn't score, he probably would have been exiled by his own teammates. Ron Hainsey decided to wander over to the right side to help his partner Olli Maatta. It was at that moment, Alexander Ovechkin found Matt Niskanen just sitting there, literally chilling in front of the net where he made it 1-1.
The game would go back and forth for the next ten minutes or so with both teams generating a decent amount of chances.  What happened next will have it's own category on Pornhub for years to come. Sidney Crosby did the damn thing. It was magical. Crosby danced over the Capitals blue line and pretty much through their entire team, putting the puck between his legs to do so. He then dished it over to Phil the Thrill who buried it to make it 2-1 Penguins. 
 Phil Kessel from Sidney Crosby and Jake Guentzel. 2-1 Penguins.
Just over three minutes later the Penguins and Jake Guentzel decided they weren't done scoring yet. 
 Sidney Crosby made a beautiful play to spring Guentzel and Rust on a 2 on 1. Let's just say Guentzel didn't miss and it was 3-1 Penguins. Capitals fans throughout Verizon Center was absolutely stunned and it was a beautiful sight.
The third period was magical. Braden Holtby had been pulled and suddenly Phillip Grubauer found himself between the pipes because Capitals coach Barry Trotz wanted to change the 'mojo' or something like that.
It didn't take long for Grubauer to become acquainted with 2017 Pittsburgh Penguins and specifically Phil Kessel, Stanley Cup Champion. This all started because the 2017 Trade Deadline Champion Washington Capitals prized acquisition Kevin Shattenkirk found himself in the box for delay of game for dumping a puck up and out of play.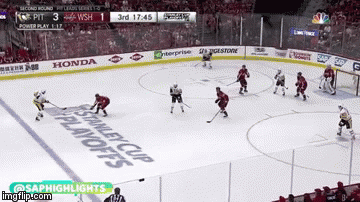 Kessel his 4th of the postseason from Malkin and Schultz. What a snipe. 4-1.
Nick Backstrom and the Capitals would get one back just over a minute later. I forget what happened because I found myself watching Crosby's goal GIF upwards of 69 times and the Penguins were still up 4-2 at that time so I wasn't quite in full panic mode yet.
The Capitals did have some momentum over the next few minutes, almost making it 4-3 a few times. It was then when Evgeni Malkin decided to get his first goal of the series. The stripes were adamant that it was no goal due to goaltender interference but upon further review, no way in hell was there goaltender interference. In fact, what a deflection by Malkin on the Ian Cole shot from the point. 5-2 Penguins.
Malkin's second of the postseason from Cole and Kessel. 5-2 Penguins. The lights were on.
Tom Wilson would assault Nick Bonino and get a ten minute misconduct near the end of the game. Wilson was very unhappy, meaning I was very happy. Verizon Center looked like a scene out of Red Dead Redemption, tumbleweeds and sadness everywhere. 
 Guentzel iced the game with this empty netter, thus putting the Penguins up 2-0 in the series.
Braden Holtby was not good last night, last night and hasn't been good all series.

Tom Wilson did 9/11.

Patric Hornqvist, Tom Kuhnhackl, and Ron Hainsey all left the game last night - Expect updates on them probably sometime today. 

Fleury has stopped 59/62 shots this series.

The Capitals had a closed door meeting last night following the game and Matt Niskanen was mad. 

Sidney Crosby surpassed Mario Lemieux for most multi-point playoff games in franchise history with 52.

Jake Guentzel surpassed Michel Briere for game-winning goals or something by a rookie in Penguins history, so that's cool.

Mia Khalifa sucks.

Literally and Figuratively.

To those of you that were in D.C. last night and stormed the steps, your service did not go unnoticed.

Pens return to PPG Paints Monday night for Game Three and a chance to go up 3-0. Good lord.

Holtby let another goal in as I typed this.

Caps fans are mad on the internet, go read some stuff. It's great.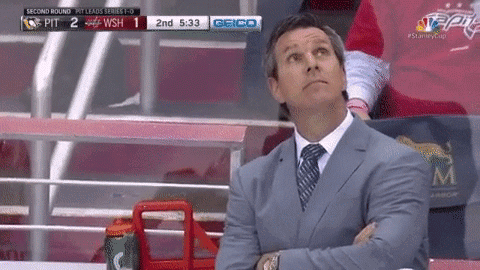 The best stunned GIF of all-time.
Thanks for the GIF @ChiefFlocka  
Go Pens. 


Please reload
Old Posts from our site, heyyyyyfannnssss (4/11-2/15). Cute name, but impossible to remember.
​