Recap City. Just Like Old Times, Pens beat the New York Rangers.
Wednesday, October 18, 2017
 The Penguins (4-2-1) started out their three game road trip with a win Tuesday night, defeating the New York Rangers (1-5-1) by a score of  5-4 in overtime.
We've seen Henrik Lundqvist laying in his net like a baby before, and thanks to yesterday's overtime mistake by Ranger defenseman Ryan McDonagh, we got to see it again. McDonagh after a faceoff WIN, attempted to clear the puck but it bounced off Phil Kessel, who sent a cross-crease pass to Evgeni Malkin to give the Penguins the victory just 58 seconds into overtime. 
We learned last night that the Phil Kessel glitch still works. You know the patented fly down the right side of the ice and fire the shot top left corner glitch? Yeah, that worked again last night. It's almost as if the NHL is ran by EA Sports NHL Developer Rammer, or @Rammer34 for the Twitter folk. Year in and year out, Kessel scores that goal and goalies can do nothing about it. What a shot.
 GIFs courtesy of @DKPghSports. This made it 1-0 Penguins. What a rocket. 
Later in the period, Penguin winger Carl Hagelin scored on a goal very similar to Kessel's. This time Hagelin had Hornqvist coming down the left side on a two on one. Hagelin faked the pass to Hornqvist and roofed it top shelf past Lundqvist to make it a 2-0 game.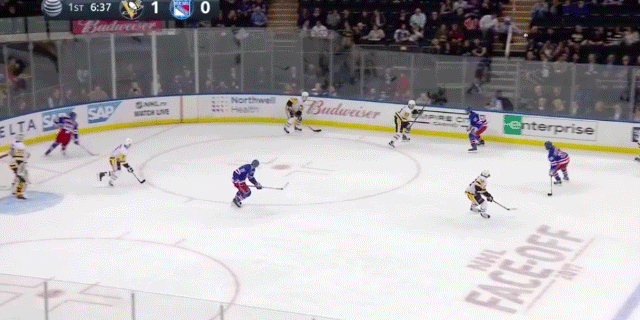 Hagelin = Phil 2.0
The next three goals were scored by the Rangers. David Desharnais scored to get the Rangers on the board. Sidney Crosby then decided to take a four minute high-sticking penalty and things went downhill real quick. Rangers forward Pavel Buchnevich scored on Crosby's first penalty to tie the game at two. Exactly one minute later, J.T. Miller scored to put the Rangers in front 3-2. I was mad. You were mad. We were all mad. 
The Penguins were rewarded with a goal with just 1:59 to go in the second period. Patric Hornqvist did Patric Hornqvist things to tie the game at three. Hornqvist now has goals in three of the four games he's played in this season. 
Hornqvist's third of the season from Kessel and Malkin.  All tied up at three going to third period.
The third period was pretty chill, aside from Kevin Shattenkirk throwing a little temper tantrum because he's not good at hockey. The Rangers did grab the lead 8:00 into the period when Michael Grabner scored. Side note: Michael Grabner is very fast. I mean he legit blew past Jake Guentzel to receive the cross rink pass from Desharnais. 4-3 Rangers. What happened next is something only Sidney Crosby and the Penguins could do.
The Penguins pulled Murray with just about two minutes left in the game. As Dan Bylsma would say, the Penguins "got to their game." The Penguins cycled the puck around which then put the puck on the stick of Sidney Crosby. Actually, rewind real quick. Crosby would have been called for a hand-pass if he had touched the puck first. Instead, before scoring, Crosby let Rangers scrub defenseman Kevin Shattenkirk touch the puck first. From there, Crosby did only things that Crosby could do, banking the puck off Henrik Lundqvist on his backhand from an impossible angle behind the net. Tie game. Unreal goal. Sidney Crosby is the best in the world if you didn't know. The goal was reviewed by Toronto for offsides, but to no avail. 
Sidney Crosby, folks.
It took just 58 seconds for the Penguins to walk away victorious. Following an icing, the Rangers took a defensive zone faceoff. Defenseman Ryan McDonagh got the puck and tried to send it up the ice, accidentally handing it right to Phil Kessel. Phil then slide the puck across to Evgeni Malkin for an easy tap-in. The Penguins won 5-4 and Malkin had a four point night. What a player. What a game. Seeing Henrik Lundqvist on the ground stunned never gets old. 
Malkin's second of the season from Phil the Thrill gives the Penguins the win, 5-4.  
 Kevin Shattenkirk is a baby. 

Henrik Lundqvist is a baby.

Sidney Crosby is good at hockey.

Patric Hornqvist now has five points in his first four games of the season.

Defenseman Matt Hunwick apparently suffered a concussion in practice Monday. He was put on injured reserve and Ian Cole came back last night.

Kenny Chesney is coming back to Pittsburgh on June 2nd, buckle up.

Rangers Head Coach Alain Vigneault may legit be fired, the Rangers are now 1-5-1, and in New York, that's not good.

Kris Letang played 27:01 last night. Jesus God.

Malkin now has 8 points on the year (2 goals, 6 assists) following his 4 point night last night.

All GIFs are courtesy of @DKPghSports, follow them. 

Next game - Friday vs the Florida Former Jagrs HC, and Saturday against the Tampa Bay Lightning.


Please reload
Old Posts from our site, heyyyyyfannnssss (4/11-2/15). Cute name, but impossible to remember.
​