Gameday. Game 19. Sabres vs Penguins.
Monday, November 19, 2018
PPG Paints Arena
7:00pm
TV: SN1, SNE, SNP, MSG - B
Radio: WGR 550, 105.9 'The X'
The Penguins (7-8-3) play host to Conor Sheary and the Buffalo Sabres (12-6-2), who are looking to make it six wins in a row. Puck drop is set for just after 7pm from PPG Paints Arena on a Sidney Crosby bobblehead night. 
Folks, once again we sit here wondering what the hell we're watching. This is more than a funk and it's getting pretty bad. On Saturday night, despite a late comeback, the Penguins fell to the Ottawa Senators by a score of 6-4. Goaltender Matt Murray was pulled after one period, allowing three goals on ten shots. The defense, also abysmal, didn't help matters by turning pucks over and pinching at very bad times. The Penguins have now lost three in a row and are 2-7-1 over their last ten contests. It's important to remember that it is only November but the Penguins sit dead last in the Eastern Conference with just 17 points. Yikes. To make matters worse, the Penguins will be without their captain again tonight as Sidney Crosby will miss his third game with an upper-body injury. 
The Sabres are on an absolute tear so far this season. They've won five in a row and a win tonight would mark their first six game winning streak since the 2009-2010 season. Buffalo is lead by their captain Jack Eichel, who has 22 points so far on the season (4 goals, 18 assists) with newly acquired Jeff Skinner right behind him with 21. Let's not forget about former Penguin Conor Sheary, who has six goals this season, surpassing any of the Penguins current bottom six forwards combined. If Buffalo scores first, the game is essentially over. Per the Sabres website, when they score the first goal they're 8-0-2 and when leading after the first period, they're 7-0-2. I'm not saying the Penguins need to score first...but if they don't, the game is over.
Expect Carter Hutton vs Casey DeSmith in net tonight.
**TBD**
Conor Sheary tribute video night, get your tissues ready.

Sheary's highlights as a Penguin:

Game winning goal in Game 2 of the 2016 Stanley Cup Final against the Sharks.

Tons of falls.

That time he almost scored on that one play.

Playing on Sidney Crosby's wing for far longer than he ever should have.

Falling down again. 

Thank you for your service, Conor. 

Letang will play in his 700th career game tonight while Bryan Rust will play in his 200th. Yay.

Per Mike Sullivan, Matt Cullen has been placed in a retirement home. Just kidding, he's out 'longer-term' with an undisclosed injury. He probably broke his hip playing Bingo, but who knows. 

Sidney Crosby has apparently made 'significant' progress in his recovery. He'll still be out tonight. 

The Penguins are 1-7-1 over their last nine games, lol.

Expect Riley Sheahan back in the lineup tonight with Cullen out. 

The Penguins have won 8 straight home games against the Sabres and have points in 14 of their last 15 matchups (14-0-1). Buckle up. 

If Buffalo scores first, just leave. It's over.
 Video via GoCanucksGo.
 Buffalo, we're talkin' proud.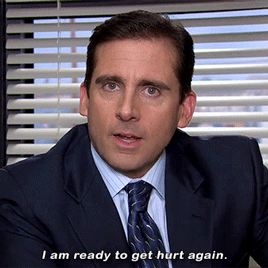 Of course.
Do it.
Go Pens.


Please reload
Old Posts from our site, heyyyyyfannnssss (4/11-2/15). Cute name, but impossible to remember.
​