Gameday. Game 20. Stars vs. Penguins.
Wednesday, November 21, 2018
PPG Paints Arena
7:00pm
TV: FS-SW+, ATT-SN
Radio: KTCK, 105.9 'The X'

The Penguins play host to the Stars of Dallas in this clash of mediocre teams. The Pens are struggling mightily, currently sitting dead last in the Eastern Conference with a 7-8-4 record. For the Stars, they currently hold the Westerns final Wild Card spot with a record of 11-8-2.
Now normally, I would report about previous games and players and things like that. But today, we are talking about the trend that could possibly make its way to Pittsburgh...The Mid-Season Coaching Switch. Last season in the NHL there wasn't a single mid-season coaching change. This season? Yeah, we've had 4 already, including two in less than 24 hours this week. They've been Stanley Cup winning coaches (looking at you Quenneville) to guys who are on their second or third Head Coaching gigs (Yeo, McLellan, Stevens). All fired within the first 20 some games of the season for their teams. Stevens made it a whopping 13 games...in his second season. Not his fault the GM decided to get older and slower on ice instead of younger and quicker. Quenneville was the longest tenured coach in the league. Know what did him in? Roster is older and slower. The Blues and Oilers finally made changes that should've been made during the off-season. Their rosters aren't older and slower, they just are badly underperforming. The Oilers have made a bunch of dumb trade but the talent is still there. You are probably asking yourself "why is he talking about this on a Penguins Gameday Report?". Well because in my honest opinion, we could be looking at the final games of the Mike Sullivan era in Pittsburgh. Pittsburgh is suffering from the same issues that caused the other coaches to be fired. Roster is getting older and slower and the GM hasn't made the right moves to balance it out. Plus, the team is badly underperforming. Whether it's Sullivan's fault or not, he will be the scapegoat. GMJR just signed a new contract so he isn't going to get fired. You can change the roster over, but it's easier to make a coaching change mid-season and blame the season struggles on the fired coach. Oh yeah, the last two times the Penguins made a coaching change mid-season, were 2008-09 and 2015-16...we went on to win the Stanley Cup in those seasons. Just food for thought. 
Penguins are wearing their third jerseys again tonight. 

Sidney Crosby returns tonight after missing three games with an upper-body injury. 

Expect Riikola to replace Ruhwedel and for Sprong to sit tonight in favor of Crosby. 

Casey DeSmith (3-3-3), the Pens better goalie IMHO, starts tonight.

Matt Cullen is old and hurt. I think this makes the Pens lineup better?

Lol the Penguins are 1-7-2 over their last ten. That's bad.

Old Friend Blake "I'm gonna skate around the zone 3 times then shoot and score" Comeau is back.

Rumor is that the Pens are shopping everyone but Malkin and Crosby

I say trade them all and move the team to someplace random like Hawaii or Alaska.

Ben Bishop is hurt for Dallas like normal.

Maybe we can sign the goalie from the Mighty Ducks movies. He can stop a puck most times.

Not a game note, but Pitt football is going to the ACC Championship! H2P!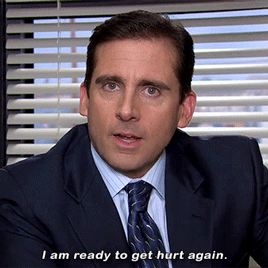 That is all.
Do it. Pls.
LGP.


Please reload
Old Posts from our site, heyyyyyfannnssss (4/11-2/15). Cute name, but impossible to remember.
​