Gameday. Game 26. Avalanche vs Penguins.
Tuesday, December 4, 2018
PPG Paints Arena
7:00pm
TV: TVAS, ALT, AT&T SportsNet
Radio: FM 92.5, 105.9 'The X'
For the second time in less than a week, the struggling Penguins (10-10-5) will take on the red hot Colorado Avalanche (15-6-5), this time from PPG Paints Arena. Puck drop is set for just after 7pm.
The first game of the Marcus Pettersson era is upon us. You might be asking who the hell is Marcus Pettersson and until yesterday and even most of today, I would have asked the same thing. Yesterday afternoon, Penguins General Manager Jim Rutherford completed his second trade of the season, this time sending forward Daniel Sprong to the Anaheim Ducks in return for Pettersson. Pettersson, a defenseman, is just 22 years old and has been compared to Brian Dumoulin and apparently in a couple years, that is exactly the type of player they hope he becomes. 
I still, to this day think that Daniel Sprong was never given a fair shot in Pittsburgh. You can cite his 42 games played and his lack of production during those games, however, when you're expected to produce surrounded by bottom six jabronis, it's going to be difficult. With a bottom six role comes bottom six minutes. Sprong, through 42 games and three seasons as a Penguin, averaged 10.12 minutes of ice time per game. While the deal is done and maybe Pettersson will become the next Bobby Orr, I will be left wondering what if a pure sniper like Sprong had been give more of a chance to play with the likes of Sidney Crosby or Evgeni Malkin. 
Anyway, the Penguins are coming off a 4-2 loss to the Flyers on Saturday and have now lost two in a row. The Penguins, aside from Sidney Crosby, can't score a goal. Phil Kessel has gone six games without one, Evgeni Malkin four, and Derick Brassard has just two in 16 games. Relying on bottom six forwards to save the day hasn't exactly worked this season either, so altogether, the Penguins need increased production from everyone not named Crosby.
The Avalanche on the other hand, are 9-0-2 over their last 11 games and have not lost in regulation since November 9th. They're led by forward Mikko Rantanen, who is currently on an eight game point streak and leads league in both points with 45 and assists with 35. Just look at it like this, Rantanen has 15 more points than Penguins leading scorer Evgeni Malkin. Nathan MacKinnon (he's from Cole Harbour, the same place as Sidney Crosby if you didn't know) leads the Avs in goals with 19. Honestly, this game has the potential to be a disaster for the Penguins. I hope Pittsburgh radio scrub Andrew Fillipponi predicts an Avalanche victory so that the Pens win big tonight. 
**TBD**
Marcus Pettersson could make his debut for the Penguins tonight. No idea who he'll replace in the lineup but he is available per Mike Sullivan. 

Pretty disrespectful move by Pettersson to wear Ian Cole's #28 on a night where the Penguins play Ian Cole.

Casey DeSmith in net for the Penguins, he'll likely go against Seymon Varlamov. 

The Penguins haven't allowed a power play goal in eight games, successfully killing off their last 15 penalties. Look for an Avalanche power play goal tonight because I wrote this. 

Sidney Crosby is currently riding a four game point streak. During the streak, he has five goals and two assists.

Speaking of Crosby, DID YOU KNOW THAT HIM AND NATHAN MACKINNON ARE BOTH FROM COLE HARBOUR, NOVIA SCOTIA????!JNNSZFJDASFJJKDJF. If not, you'll find out tonight, 432 times.

Tyson Barrie missed the last four games with a lower-body injury. He's expected to return tonight.

I miss Ian Cole.

The Avs lead the league in points recorded on the road, they are 10-4-2 through 16 road games this season. 

I miss Daniel Sprong, tbh.

Seattle will become the NHL's 32nd franchise. They're expected to begin play in the 2021-2022 season.

Matt Murray skated before the team practiced. He should be back giving up goals in no time.

Apparently the Penguins really wanted to trade Derick Brassard. Not sure what you can get for him besides maybe a Flaming Hot Cheeto, a nickel, and maybe if you're lucky, a 2005 Pirates Jason Bay trading card.

The Office is an amazing television show and if / when this game goes to hell, you can bet I'll be watching.

Follow us on Twitter, @PensOfAnarchy.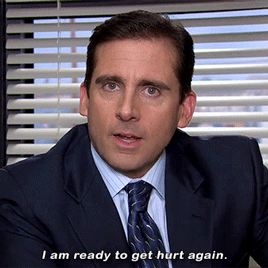 Do it.
Go Pens.


Please reload
Old Posts from our site, heyyyyyfannnssss (4/11-2/15). Cute name, but impossible to remember.
​