Gameday. Game 50. Lightning vs Penguins.
Wednesday, January 30, 2019
PPG Paints Arena
8:00pm
TV:NBCSN, TVAS, SN
Radio: 970 WFLA, 105.9 'The X' 
Helllooooooo everybodyyyy, tonight the Penguins (26-17-6) look to snap their two game skid when they host the best team in the NHL, the Tampa Bay Lightning (37-10-2). We've got a late start tonight because the game is being broadcast on national television so puck drop won't be until just after 8pm.
The Penguins are broken. Evgeni Malkin looks lost out there. The power play is a joke. Derick Brassard is worse than some of the youth hockey players that scrimmage during intermission. These are just some of season long issues plaguing the Penguins, who lost in embarrassing fashion to the Devils 6-3 on Monday night, making it their third loss to them this season. The Penguins are now 1-7-1 against last place teams which is definitely not good. I'm not sure exactly what it is, but this Penguins team, despite being so talented sucks when it comes to execution. Hot take here but one of the many reasons why the Penguins suck this year is because their offseason was spent signing an aging veteran defenseman that brings a 'calming presence' and bringing back a player out of pure nostalgia instead of trying to get faster and more skilled. Just my two-cents. 
Tonight they'll face the best team in the league. Tampa is 37-10-2, good for first in the Atlantic Division by 14 points and currently sit atop the NHL standings with 76 points. For some perspective, the Penguins are 13th in the league with 58 points and currently sit in the second wild card spot two points ahead of the Buffalo Sabres. Tampa is 17-5-2 away from Amalie Arena so things could get ugly very quickly tonight. Then again, these are the type of games the Penguins win, in convincing fashion too. The Lightning are led by Nikita Kucherov, who also happens to lead the league in scoring with 78 points (22G, 56A). 
Expect Andrei Vasilevskiy to oppose Matt Murray in goal.
Third jerseys tonight.

Tampa Bay is pretty good at hockey. 

I'm pretty sure they lead the league, averaging four goals per game.

They also have the top ranked power play, clicking at an absurd 29.5%.

Ryan Callahan does suck though so there's that. 

The Penguins recalled center Teddy Blueger (who is way better than Matt Cullen). He could make his NHL debut tonight.

Penguins held an optional morning skate this morning so idea what the hell is actually going to happen tonight. 

Jack Johnson was injured late in Monday's game against the Devils. Unfortunately, it doesn't look severe enough to keep him out of the lineup tonight.

Speaking of injuries, Derick Brassard nailed Sami Vatanen to a cross last game. Brassard was given a five minute major and a game misconduct for elbowing. He did not face additional discipline, which sorta sucks because Brassard is bad. 

Honestly, I can't wait for Justin Schultz to be healthy.

Not much to really say about this one. I just hope they don't get mercy ruled.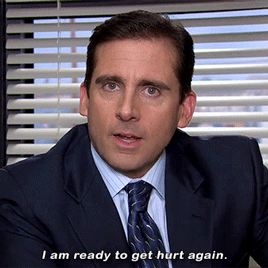 Do it.
Go Pens. 


Please reload
Old Posts from our site, heyyyyyfannnssss (4/11-2/15). Cute name, but impossible to remember.
​