Gameday. Game 81. Red Wings vs Penguins.
PPG Paints Arena
7:00pm
TV: FS-D, AT&T Sportsnet
Radio: WXYT -  FM 97.1,105.9 'The X' 
The final two games are upon us. As the Penguins embark on the final two games, both at home, they sit at 97 points, just above the Carolina Hurricanes and the Columbus Blue Jackets. While Pittsburgh is in the drivers seat, they cannot afford to lose as Carolina is sitting at 95 points, with two games remaining as well. 
The Penguins are coming off a 4-1 loss in Detroit as these two teams are playing the second game of the home and home series. The lone Pens goal belonged to Philip J. Kessel, his first even strength goal since 1842 while Sidney Crosby is still looking to snap his goal-less drought which currently sits at 10 games. On the plus side, the Pens could welcome back Geno Malkin tonight, and you know that if he returns, he's gonna play like a chicken with its head cut off. One stupid penalty coming up tonight guaranteed. 
Despite Kessel having multiple goal droughts this season, he is second on the team in points with 79 points in 80 games. At this point, it seems like he needs to finish the regular season strong, and have a great playoff run or he will be traded this off-season, per Pittsburgh media folks. Even then, he could still be dealt as the Penguins looking at needing to clear cap space again this summer.
Surprise stat of the night: Jack Johnson is one of three players to play in every game so far. Too bad he hasn't produced in 3/4 of those games.
The Red Wings suck and yet they just signed their coach to a new contract...ok then.
Expect Matt Murray vs. Jimmy Howard in net tonight.
Evgeni Malkin will probably return tonight, he's been sidelined since March 16th because Robert Bortuzzo is a scumbag.

The Red Wings have won six in a row. Good lord. 

Phil Kessel scored his first even strength goal since Vietnam on Tuesday against the Wings.

Kris Letang is a game-time decision so he could realistically play.

Old ass Matt Cullen will pass Steve Yzerman tonight in career games played with 1,515, moving him 19th place all-time. 

Watch out for Malkin to get like 50 PIMS tonight. 

The Pens just need a god damn win and they'e in the playoffs. 

This game is over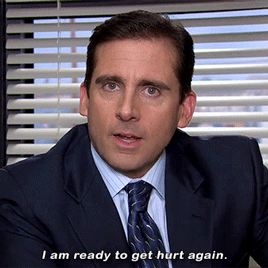 Do it.
Go Pens.


Please reload
Old Posts from our site, heyyyyyfannnssss (4/11-2/15). Cute name, but impossible to remember.
​