Gameday. Round 1, Game 3. Islanders vs Penguins.
Isles lead series 2-0
PPG Paints Arena
12:00pm
TV: NBC, CBC, TVAS, SN
Radio: 88.7FM WRHU, 105.9 'The X' 
 Ready? Neither are we...
The Penguins will look to avoid going down in the series 3-0 when they host the Islanders for a critical Game Three matchup. We've got an early afternoon start with puck drop set for 12pm so be sure to start drinking well before 8am.
What a disaster this series has been so far for the Penguins. On Friday night, the Pens lost by a final score of 3-1, their lone goal coming from defenseman Erik Gudbranson. This is the first time that Pittsburgh has trailed 2-0 in a series under Mike Sullivan and the first time they've been in this hole since the 2013 series against the Boston Bruins in which they were swept and scored a total of just two goals. Has anyone seen Sidney Crosby? Through two games, he and Jake Guentzel have yet to record a point. Even harder to believe, Jake Guentzel didn't even record a shot attempt in Game One. Either way, it's not good enough and if the Penguins have any hope in getting back into this series, today is a must win. 
As bad as the Penguins have been in these last two games, the Isles do deserve credit. They've managed to completely shut the Penguins offense down and skate circles around the team as a whole. To be honest, and I think I speak for every Penguin fan by saying this, we really underestimated the Islanders. The Isles are devoid of any superstar talent yet they've managed to thoroughly dominate this series. I'm starting to think that their 103 point season wasn't a fluke. 
The Penguins should be getting a boost to their lineup today. Jared McCann is expected back after missing Game Two because Cal Cluttersuck tried to end his career with a vicious cross-check. Realistically, I have no idea whether he will play or what the rest of the lineup will look like. I'm sure Mike Sullivan will tell you everyone is a 'game-time' decision anyway, however, I find it hard to sit Teddy Blueger. If McCann and Blueger do dress today, you have to figure Garett Wilson is the guy that sits. Knowing Sullivan though, he'll find a way to mess this up.
Robin Lehner will oppose Matt Murray in net. Buckle up.
Today is a 'must win' game. Start drinking. 

The Pens do not play well in afternoon games so you better be crushing some liquor. 

'Gold Out' shirts for today's game.

12:20pm is puck-drop.

Honestly, that Patric Hornqvist contact is looking like it's going to be a disaster.

At least the Penguins are potentially two games away from Matt Cullen's retirement. Trust me, this is great news.

Jared McCann IS expected to play today.

I think the Penguins would do much better if they didn't take 69 penalties. It's unreal that they were shorthanded six times on Friday.

This is the sixth time in the Crosby/Malkin era that the Penguins have found themselves down 2-0 to start a series. 

We posted a milk carton photo of Sidney Crosby on Twitter and people were jammmmmmed up. It was quite the sight. Haven't seen it?
Erik Gudbranson scored his first career playoff goal Friday night. Honestly, he's been unreal as a Penguin.

I am nervous.

Follow along as we continue to jam people up online - @PensOfAnarchy.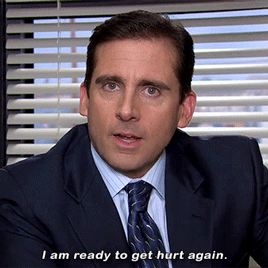 Welp.
Do it.
Go Pens. 


Please reload
Old Posts from our site, heyyyyyfannnssss (4/11-2/15). Cute name, but impossible to remember.
​