Gameday. Game 2. Blue Jackets vs Penguins.
Saturday, October 5, 2019
PPG Paints Arena
7:00pm
TV: ESPN+, FS-O, AT&T Sportsnet
Radio: 97.1FM, 105.9 'The X'
The Penguins (0-1-0) kick off their 2019 season ton...oh wait they already played!? Allow me to start over...the Penguins will look to rebound following an awful 3-1 opening night loss to Conor Sheary and the Buffalo Sabres when they host the Columbus Blue Jackets (0-1-0). Puck drop is set for just after 7pm from PPG Paints Arena.
Folks, I know it's one game and the first game but the Penguins certainly did not impress on Thursday night. Although the score was only 3-1 they looked absolutely flat and sloppy to say the least. Shots on goal aren't always indicative of performance but in this instance they were. The Penguins were outshot 41 to 29 and were just outclassed by Buffalo. Some positives to take away though: Brandon Tanev was buzzzzzzzzinnnnggg out there and was certainly noticeable, the same goes for Evgeni Malkin and Alex Galchenyuk. Malkin scored the lone goal for Pens on the power play with assists from Kris Letang and Sidney Crosby.
The Penguins now shift their focus from Buffalo to Columbus and I guess we should do the same. What a shit offseason for the Blue Jackets. They managed to lose Sergei Bobrovsky, Artemi Panarin, Matt Duchene, Ryan Dzingel and if you count Adam McQuaid, Mark Letestu, and avid emoji-user Keith Kinkaid as hockey players, they lost them too. Their lone acquisition was winger Gustav Nyquist, who they signed to a 4 year, $22M deal. 
Columbus will play their second game of a back-to-back tonight. Last night, they got absolutely smoked by the Toronto Maple Leafs, losing 4-1. Joonas Korpisalo started in net so I fully expect CBJ to turn to rookie goaltender Elvis Presley. Honestly, though who knows because it's Torts. For the Penguins, look for defenseman Juuso Riikola to make his season debut. He skated on the third defensive pairing during practice yesterday.
Unreal that Conor Sheary continues to torch the Penguins. He falls down so much and yet still manages to pot hundreds of goals.

"Party Hard" is no longer the goal song. It was replaced by House of Pain's "Jump Around." People were not happy, so naturally we are thrilled. Good job, Penguins. Now all we need is "Party on 5th Ave" as a win song. 

Evgeni Malkin blasted his team following their 3-1 loss Thursday saying, "The season's started already. We need to understand it's not like we have 20 games to wake up. No, it's already started. Every point is important. Every year it gets harder and harder to make playoffs."

Speaking of leaders, John Tortorella is a scumbag hack. 

Phil Kessel had an assist Thursday night, FWIW. 

Derek Grant also scored for the Ducks so...

Jack Johnson sucks. I still can't believe he is on this team, let alone playing second pair minutes. Christ.

Speaking of Jack Johnson, look for Juuso Riikola to make his season debut today. He was scratched in favor of JJ (not Jagr) on opening night. 

You know who doesn't suck, Brandon Tanev. The guy was everywhere Thursday. If you missed it, you still have roughly six years to watch.

Columbus will likely turn to their backup goaltender tonight, Elvis Presley, being that Korpisalo played last night.

If you haven't yet...follow along on Twitter @PensOfAnarchy.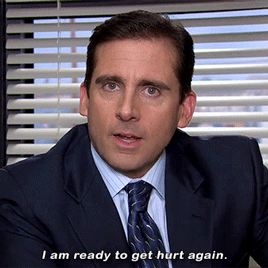 Do it. Go Pens.


Please reload
Old Posts from our site, heyyyyyfannnssss (4/11-2/15). Cute name, but impossible to remember.
​