Gameday. Game 4. Ducks vs Penguins.
Thursday, October 10, 2019
PPG Paints Arena
7:00pm
TV: PRIME, AT&T SportsNet
Radio: AM830, 105.9 'The X' 
After acting like they were good for one game, the Penguins (1-2-0) scored just one goal against a Winnipeg team who iced 6 defensemen that were actual Pokemon characters. It probably didn't help that the Penguins finished that game with roughly six healthy forwards but you get the point. Matt Murray was also swatting flies that game and I think he just got scored on again. Yep, we can confirm. Looking ahead to tonight's game, the Penguins welcome an Anaheim team that is somehow 3-0-0 on this young season. That record is probably helped by Whitehall native John Gibson (you'll hear that approximately 69,420 times tonight) being on crack. We eagerly wait to see what the Penguins lines are going to look like come game time tonight. In addition to Rust, Malkin, and Bjugstad already being out, the Penguins are likely going to be without the services of Patric Hornqvist and Alex Galchenyuk tonight as well. Hornqvist suffered a lower-body injury on Tuesday and Galchenyuk aggravated a previous injury. There is a good chance the Penguins dress as many defensemen as they do forwards. Fun times.
Update: It appears that Patric Hornqvist will play tonight. He's listed as a game-time decision. Forward Alex Galchenyuk was placed on injured reserve (hahaha) after he aggravated an undisclosed injury, so that's fun. Adam Johnson was recalled as the corresponding roster move. Expect the Pride of Baldwin Whitehall John Gibson to oppose Matt Murray in goal. 
The Penguins out shot Winnipeg Tuesday night by an almost 2 to 1 margin and still found away to lose.  If you add in all the times Dominik Simon shot a puck to the moon the Penguins probably out-shot Winnipeg by 100. This makes it sound like the Pens probably deserved better but in reality they didn't because 95% of their shots hit Connor Hellebuyck right in the chest.

Hopefully they keep all the flies out of PPG tonight so Matt Murray can focus on stopping pucks instead of swatting at flies all night.

Speaking of swatting flies, Anaheim has yet to score on the power play. That will likely change tonight.

Apparently Erik Gudbranson stayed out on the ice after practice which generally means indicates he could be scratched. I don't believe this for one minute though.

Per the Penguins website, Sidney Crosby has points in 14 out of 16 career games played against the Ducks (8G, 14A - 22 points)

The Penguins forward core looks like a M.A.S.H. unit.

Speaking of, Adam Johnson is expected to center the 4th line tonight.

We could also see two defensemen playing wing. 

Daniel Sprong unfortunately isn't in the Ducks lineup :(

We are unfortunately going to be at the game again tonight so if you want to buy us beers to help cope with this train wreck of a hockey team tweet us @PensOfAnarchy.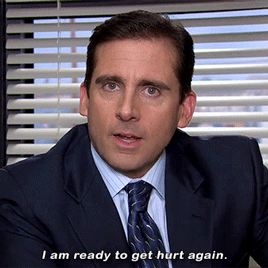 Do it. Go Pens.


Please reload
Old Posts from our site, heyyyyyfannnssss (4/11-2/15). Cute name, but impossible to remember.
​