Gameday. Game 8. Stars vs Penguins.
PPG Paints Arena
7:00pm
TV: ESPN+, FS-SW, AT&T Sportsnet
Radio: KTCK 1310-AM, 105.9 'The X'
It's a hockey night from the bar I'm gonna be drinking at. Game 8 of the 2019 season is here and the Penguins play host to the Stars of Dallas. Pittsburgh comes in on a 4 game winning streak having taken down Colorado 3-2 in overtime on Wednesday thanks to a Brandon Tanev shorthanded goal.
This Penguins team has shown amazing resilience this season having had so many injuries so early. The Pens come in at 5-2-0 while the Stars come in at 1-6-1 riding a 3 game losing streak. Pittsburgh has seen big contributions from young players such as Sam Lafferty (5 games, 5 points), Zach Aston-Reese (4 points in 7 games) and even some unexpected offense from Marcus Pettersson (4 points in 7 games). Plus some solid goaltending from Murray and Jarry have allowed the Pens to get off to a hot start, which is much needed in what is going to be a tough Eastern Conference this season.
The Stars aren't good so they will win.

The Pens are starting Murray today instead of starting him tomorrow against VGK and MAF. Soft. 

Not only am I ready for my heart to be broken by the Pens, but also by Pitt.

Jared McCann should return tonight. He is a 'game-time' decision per Mike Sullivan.

I will be at a bar drinking and eating and crying when the Pens get blown out.

Stop in a see us tonight and we can bad mouth the team.

The 'Big Rig' looks like he'll be on the third pairing for the Stars tonight. Never forget.

2x Stanley Cup champion Phil 'The Thrill' scored two goals last night for the Yotes. God I miss him.

Alex Galchenyuk, Evgeni Malkin, and Zach Trotman all skated prior to the morning skate.

It was revealed Wednesday that Galchenyuk suffered a setback after being bit by a spider...that is absolutely peak Penguins.

The Penguins have shorthanded goals in back to back games. I feel like that's good.

Per the Penguins website, they are 9-2 over their last 11 home games against the Stars.

Sidney Crosby has five multi-point games on the season, tying him with John Carlson, Leon Draisaitl and Connor McDavid.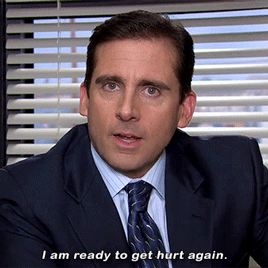 That is all.
#BeatDallas
#LGP
#H2P
#BeatCuse


Please reload
Old Posts from our site, heyyyyyfannnssss (4/11-2/15). Cute name, but impossible to remember.
​