Gameday. Game 15. Penguins @ Bruins.
TD Garden
7:00pm
TV: NHL Network, TVAS, SNE, SNP, SNO, SN1, AT&T Sportsnet
Radio: 98.5 SPORTSHUB, 105.9 'The X'
Helllloooooooo everybodyyyyy, the Penguins (8-5-1) hit the road for a brief two game trip in which they'll play the Boston Bruins (10-1-2) and the New York Islanders. Stop one, tonight in Boston. Puck is scheduled to drop from TD Garden at 7pm. 
The Penguins fell to Mike Smith and the Edmonton Oilers in overtime on Saturday by a score of 2-1. Yes, that Mike Smith in case you were wondering if it was somehow a different Mike Smith. That same Mike Smith that you know and probably don't remember much about made 51 saves. The Penguins came out buzzing and played well for the duration of the game. Their lone goal came from defenseman Brian Dumoulin, shorthanded too. I will say, the overtime frame was some of the best hockey I've ever seen. It's an absolute gimmick but god damn is it enjoyable. The Pens and Oilers traded chance for chance until Leon Draisaitl won it for Edmonton by chipping the puck over Matt Murray's blocker. 
The Bruins are an absolute wagon of a hockey team. They enter play tonight on a five-game winning streak and are 7-1-2 over their last ten games. While the Penguins are "playing the right way", as head coach Mike Sullivan would say...nothing seems to go right up in Boston. In fact, I'm pretty sure they have not won a game in Boston since Sullivan took over as head coach, however, they did manage to go 2-0-1 against the B's last year. Their loss coming of course...in Boston in overtime by a score of 2-1 thanks a to Joakim Nordstrom goal. 
For the Penguins, expect Matt Murray in goal. Backup (although he could be a starter on a lot of teams) Jaroslav Halak will go for the Bruins. The B's are playing their first of a back-to-back. They will be in Montreal tomorrow night.
The Penguins health streak lasted a total of two periods. It was announced yesterday that forward Patric Hornqvist will be out 'longer term' with a lower-body injury. LOL. He was placed on injured reserve.

Expect Dominik Kahun to return to the lineup tonight.

Despite some good looks, the Penguins are now 0 for their last 19 on the power play. That's honestly not good.

Per the Penguins, Matt Murray is 5-1-1 in his last seven games with a 1.97 goals against average and a .926 save percentage. Just sucks he doesn't smile more. Poor guy.

After some digging, because I wanted to see if I was right, the Penguins are 0-5-1 in Boston dating back to December of 2015. Buckle up. LMAO.

Apparently Brian Dumoulin's wife had a kid yesterday and that's why he wasn't at practice. I guess that's an ok reason. He should be in the lineup tonight.

Sidney Crosby enters tonight leading the Penguins in points with 17 (5G, 12A). David Pastrnak leads the B's with *stares blankly* 27 points (13G, 14A).

Honestly, I'm prepared to be mad.

Follow along on Twitter - @PensOfAnarchy.
HOW AREEEE YAAAAAAAAAA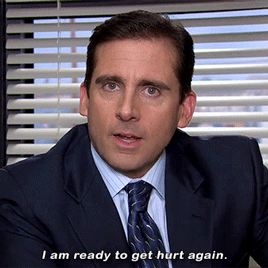 Do it.
Go Pens.


Please reload
Old Posts from our site, heyyyyyfannnssss (4/11-2/15). Cute name, but impossible to remember.
​