Gameday. Game 22. Penguins @ Islanders.
Thursday, November 21, 2019
Barclays Center
7:00pm
TV: ESPN+, MSG+, AT&T Sportsnet
Radio: 88.7FM WRHU, 105.9 'The X'
Hellloooooooooo everrryyyyyboddyyyy, the Penguins (11-7-3) look for redemption tonight when they take on the Islanders (15-3-1) yet again to conclude their home-and-home series. Puck drop is set to drop from Barclays Center just after 7pm.
In case you missed it, Tuesday's game against the Islanders was brutal. The Penguins blew a two goal lead twice only to fall by a score of 5-4 thanks to Brock Nelson's overtime game-winner. In reality, we should be crediting Justin Schultz who was absolutely brutal, especially in overtime and Matt Murray who can't seem to make a save as of late. Over his last three starts, Murray is 0-1-2 with a .891 save percentage and has let in some goals that I'm sure he'd love to have back. It will be interesting to see who the Pens turn to in goal tonight with another back-to-back situation upcoming. They'll host the Devils tomorrow night in Pittsburgh and Tristan Jarry has yet to start the first game of a back-to-back this season.
The Isles keep rolling. With the win Tuesday, they tied a franchise record with points in 15 straight games and will look to set a new franchise record tonight. When I look at the Islanders team on paper, I'm wondering how the hell they're 14-0-1 over their last 15 games. What they're doing is absolutely incredible right now even though Frankie Borelli still sucks. Both Islanders goalies have been good so far this year so it could be Varlamov again tonight or they could go with former Penguin Thomas Greiss. Greiss has eight wins in ten starts with a .938 save percentage and a 1.98 goals against average this season.
A few items of note: Justin Schultz left practice early yesterday. Mike Sullivan did not have an update but honestly at this point I doubt he plays, it seems to be the norm around here anyway. Patric Hornqvist could return to the lineup tonight. He's been out since November 3rd with a lower-body injury. He was a full participant in practice yesterday and Sullivan said he will be a 'game-time decision.' Scumbag Matt Martin could return for the Isles tonight. He's been on the IR since October 25th. 
I have PTSD from seeing the Islanders too many times. Thank Christ these teams won't meet again until March 15th. 

I still can't (I can) believe that the Penguins blew a two goal lead...twice. They were absolutely outclassed in the third period and overtime as well.

As mentioned above, Justin Schultz did leave practice early yesterday. If he can't go tonight, expect Chad Ruhwedel to make his season debut. 

At least Brandon Tanev is good. He recorded his first multi-goal game of the season Tuesday and has 11 points (5G, 6A) through his first 21 games as a Penguin.

Bryan Rust has also been solid. He tallied another goal Tuesday and now has 10 points (4G, 6A) in his first 10 games this season.

The Penguins made a minor move last night. They acquired forward Graham Knott from the Blackhawks in exchange for forward Joseph Cramarossa. Knott will report to Wilkes-Barre. If a game ever comes down to Graham Knott, we're screwed anyways. Who cares. Eat Arby's.

Jake Guentzel has 4 points over his last two games (2G, 2A). Pretty wild though considering he's strictly a product of Sidney Crosby... *uses thinking emoji*.

Per the Islanders, Derick Brassard (like I said I have no idea how the hell Isles do it) is currently riding a four-game point streak. He has 1 goal and 7 assists over that span. That pretty much doubles his total production while he was in Pittsburgh.

Brock Nelson, who scored two goals including the OT winner Tuesday, will play in his 500th career NHL game tonight. He was drafted by the Isles back in 2010. He'll probably score again tonight. 

Follow along on Twitter - @PensOfAnarchy. 

Marc-Andre Fleury is the best goalie in the world. Did you see his spectacular save that got Mike Babcock fired? If not, check it out: 
 via NHL
Anyone trying to go to Mario's for the game tonight? How areeee yaaaaaaaa.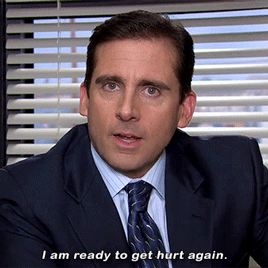 Do it.
Go Pens.


Please reload
Old Posts from our site, heyyyyyfannnssss (4/11-2/15). Cute name, but impossible to remember.
​