Gameday. Game 25. Canucks vs Penguins.
Wednesday, November 27, 2019
PPG Paints Arena
7:00pm
TV: SNP, AT&T Sportsnet
Radio: SN650, 105.9 'The X'
Hellooooooo everybodyyyyyy... the Penguins (13-7-4) look to make in three wins in a row when they take on the Vancouver Canucks (12-9-4) in a Thanksgiving Eve showdown. Puck drop is set for just after 7pm from PPG Paints Arena. 
If you live under a rock or just haven't been paying attention...the Penguins finally won a game in overtime on Monday night when they beat the Calgary Flames by a score of 3-2 thanks to Jake Guentzel's OT winner. Tristan Jarry was solid yet again making 32 saves on 34 shots and Alex Galchenyuk, who is not as good as Phil Kessel, also scored his first goal as a Penguin after having 0 through 14 games. Also, Dominik Kahun continued his dominance following a slow start to the season. With two assists against the Flames, he now has 6 goals and 8 assists on the season for 14 points, which is somehow good for 4th on the team in scoring. 
Switching over to the Canucks...they're a pretty fun young team to watch. This is the fifth game of their six game road trip. They are coming off a 2-1 loss to the scumbags from across the state on Monday and are 5-5-0 over their last ten games.They are led by forward Elias Pettersson who has 29 points on the season (10G, 19A) although he's just one of their fun young players. They also have Brock Boeser, JT Miller, Bo Horvat and Quinn Hughes to name a few. Entering play tonight Vancouver currently sits third in the Pacific Division with 28 points (the Penguins have 30 points for comparison). Somehow...some way Tanner Pearson is their first line left winger. I wonder if the Pens will give him a tribute video tonight? Stay tuned. 
I fully expect the Penguins to go back to Matt Murray again tonight. Normally, this would rattle me, however, he's been solid against the Canucks through his career with a 2-2-0 record and a .929 save percentage. Per the Penguins because my memory sucks, both of his wins were shutouts. No idea who the Canucks will start in goal. Jacob Markstrom is technically their starter, though rookie Thatcher Demko has got a decent amount of looks this season. We shall see.
Brandon Tanev will face-off against his brother Chris Tanev, who's been with the Canucks for 10 seasons tonight. Hopefully they fight each other. 

The Penguins went 1-0-1 against Vancouver last season...they will play the second game against them this season on December 21st when they do their annual Western Canada trip.

Pittsburgh has earned points in 9/11 games against Western Conference teams this year.
 Per the Canucks, rookie defenseman Quinn Hughes is tied for 2nd amongst rookies with 18 points (2G, 16A).

Forward Brock Boeser is also tearing it up. He has 9 points (3G,6A) over his last 12 games.

As mentioned above...Tanner Pearson tribute video tonight!? I mean he did play 44 games in a Penguins sweater...

Speaking of former Penguin legends...center Brandon Sutter won't play tonight. He remains sidelined with a groin injury.

Following this game...the Penguins will be in Columbus on Black Friday and St.Louis Saturday in another back-to-back situation before returning home Wednesday to take on the Blues again. 

Alex Galchenyuk may be starting to get hot (*insert Michael Scott GIF*). After scoring his first goal of the season Monday...he now has 5 points (1G, 5A) over his last six games.

Also...Jake Guentzel clearly is not a product of Sidney Crosby. He now has seven points over the last five games. 

I would say follow along on Twitter, @PensOfAnarchy, for the game tonight...but some of us are going and some of us are participating in a Thanksgiving Eve bar crawl. Sobriety may come into play if we do decidde to tweet. Buckle up.

Happy Thanksgiving from us to you! 

The Canucks brought back their retro black Black Skate jersey this year. They need to wear it every game of the year.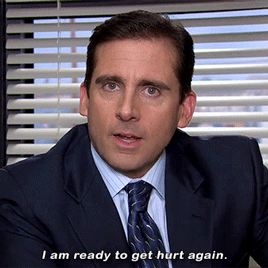 Do it.
Go Pens.


Please reload
Old Posts from our site, heyyyyyfannnssss (4/11-2/15). Cute name, but impossible to remember.
​