Gameday. Game 40. Sharks vs Penguins.
Thursday, January 2, 2020
PPG Paints Arena
7:00PM
TV: NBCSCA, AT&T Sportsnet
Radio: KFOX, 105.9 'The X' 
Hellllooooooo everybodyyyyy, Happy New Year! The Jake Guentzel-less Penguins (24-11-4) kick off the 2020 portion of their schedule tonight when they conclude their three game homestand against the San Jose Sharks (17-21-3). Puck drop is set for just after 7PM from PPG Paints Arena.
The Penguins beat the lowly scumbag Ottawa Senators on Monday night by a score of 5-2. The win came at a heavy cost though as the Pens lost forward Jake Guentzel for 4-6 months after he underwent successful shoulder surgery following a nasty collision with the boards. Guentzel scored to put the Penguins up 5-2 and then got tangled up with Senators defenseman Thomas Chabot's stick which caused him to fall awkwardly. Didn't see it? Here you go: 
 Video via Sportsnet
Guentzel, who we were told was a product of Sidney Crosby, won't be easy to replace. Prior to going down, he led the Penguins in points with 43 (20G, 23A) and the goal against the Sens also happened to be his 200th career NHL point. Now without their leading scorer, the Penguins will surely have to make a move to acquire a scoring winger probably sooner rather than later. If yesterday's lines are any indication, it appears Alex Galchenyuk will get a shot on the top unit alongside Evgeni Malkin and Bryan Rust. Galchenyuk had goals in both games against the Predators and has 13 points (4G, 9A) on the season.
Shifting gears, the Sharks actually really suck this season. They already fired Pete DoBoer and named former Penguin Bob Boughner their interim head coach. Entering play tonight, they're last in the Western Conference standings wise, tied with the Anaheim Ducks for 37 points. They are coming off a 2-0 loss on Monday night to the also very awful Detroit Red Wings. San Jose is 2-7-1 over their last 10 games and 6-10-2 away from SAP Center this season. While that's encouraging for the Penguins, that's also terrifying considering the Penguins love to lose to these kind of teams. 
It's no surprise that Tristan Jarry will be in goal. He's been absolutely dominant so far this season. He's now won six straight games and is 13-5-0 on the season with a 1.88 goals against average and a .938 save percentage. Much like the Penguins, the Sharks have a number one goalie that used to be elite that sort of just sucks now. We are referring to Martin Jones. So far this season, Jones has been awful sporting a .893 save percentage with a 3.13 goals against average in 30 games played. 
Former Penguins Stefan Noesen returns tonight. Will there be a tribute video??

Thomas Chabot sucks. Even though Guentzel's injury wasn't his fault, I'm blaming him.

Evgeni Malkin was fined $5,000, the maximum allowable under the CBA for high-sticking J.G. Pageau. Honestly, it's a shame he didn't hit him higher and harder. 

Pageau was fined $2,500 for running around and being a scumbag.

First matchup of the season between these two teams. They'll meet in San Jose on February 29th.

Horse face Logan Couture leads the Sharks in points with 33 (12G, 21A) in 41 games played.

Never ever forget when he said Sidney Crosby cheats.
We have to clear this up every year. Brent Burns and Joe Thornton aren't actually good. They just have beards. There is a difference. 

Thornton has just one goal this year in 41 games played. Is that good?

Bryan Rust has 15 points (7G, 8A) over his last 9 games. I think that is actually good?

Per the Penguins, Tristan Jarry has allowed two goals or fewer in 14 of his 17 appearances this season. In those games, the Penguins are 12-2-0. That is good.

Who will Jim Rutherford acquire to fill Guentzel's shoes? The common names out there are Chris Kreider from the Rangers, Tyler Toffoli from the Kings, and someone even floated Brandon Saad's name (no thanks).

Stay tuned because Jim Rutherford doesn't like to wait until the deadline.

Follow along on Twitter - @PensOfAnarchy. 

Much like the Penguins, I am ready to get hurt again.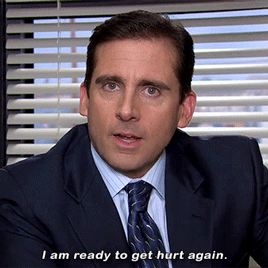 Do it.
Go Pens.


Please reload
Old Posts from our site, heyyyyyfannnssss (4/11-2/15). Cute name, but impossible to remember.
​