Gameday. Game 65. Senators vs Penguins.
PPG Paints Arena
7:00PM
TV: RDS2, TSN5, AT&T Sportsnet
Radio: TSN1200, 105.9 'The X'
The Penguins (37-21-6) hope to win their first game since the Revolutionary War tonight when they host the Ottawa Senators (23-31-12). Puck is set to drop from PPG Paints Arena just after 7PM.
It has not gone well for the Penguins as of late. The West Coast trip was seen as an opportunity to pick up four to six points against teams that were not making the playoffs and the Penguins somehow managed to come away with zero. You can say they looked good at times and weren't getting the bounces and whatnot but there's really no excuse for losing six straight this time of year, especially against the teams they just played. That said, the schedule isn't going to any easier as the annual #MarchOfThePenguins is upon us. Pittsburgh still has four games against the Carolina Hurricanes, two against the Caps, one against the Islanders, and one against the Flyers, let alone several other Metrosexual Division teams that seem to give the Penguins trouble.
I'd normally say this is a good chance for the Pens to rebound, hosting the god awful Senators who traded away most of their good players during the deadline including J.G. Pageau, Tyler Ennis, and Vladimir Namestnikov, however, the Sens have won their last two games including a 4-3 shootout victory against the Red Wings on Saturday.
Some actual good news: Both Brian Dumoulin and John Marino should return to the lineup tonight. Dumoulin has been out since November 30th because of lacerated tendons in his left ankle and Marino has missed the last 11 games after getting hit in the face with a puck. In goal tonight, it's a coin flip, however, I'd lean towards Matt Murray. For Ottawa, it was announced that Craig Anderson will be in goal.
'O Canada' tonight.

Brian Dumoulin and John Marino are game-time decisions for tonight. They couldn't return any sooner.

Dominik Simon is week-to-week with an upper-body injury. Not good for his #FancyStats.

Patrick Marleau will play tonight. He did not practice yesterday since he was with his family, or something.

The Penguins haven't lost seven straight since the 2005-2006 season. 

This is the second matchup of the season between these two clubs. Pittsburgh won the first meeting by a score of 5-2 back on December 30th.

Ottawa had to recall former Penguins goalie prospect Filip Gustavsson to serve as a backup to Anderson tonight as Marcus Hogberg is out to due to personal reasons. If you can recall, Gustavsson was sent to Ottawa in deal that brought awful ass Derick Brassard to town.

Sidney Crosby is still sitting at 798 assists.

Per Penguins PR, Evgeni Malkin is riding an 8 game home point-streak against the Sens dating back to February 3rd, 2014. 

I wish the Penguins would have went after Anthony Duclair. What a player. 

Brady Tkachuk is a scumbag. 

Follow along on Twitter - @PensOfAnarchy. 

I am ready to get hurt again.

It's 90's Night so expect the Penguins to lose by 90 goals.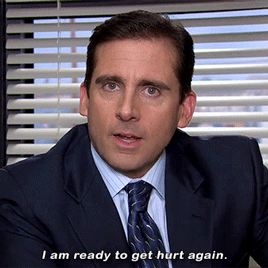 Do it.
Go Pens.


Please reload
Old Posts from our site, heyyyyyfannnssss (4/11-2/15). Cute name, but impossible to remember.
​