Gameday. Game 68. Hurricanes vs Penguins.
PPG Paints Arena
1:30PM
TV: ESPN+, TVAS, FS-CR, AT&T Sportsnet
Radio: 99.9 'The Fan', 105.9 'The X' 
Well that was short lived. After two straight wins over Ottawa and Buffalo, the real Penguins showed up in Pittsburgh and got killed by Washington 5-2. Goals by Sidney Crosby and Evgeni Malkin were the high points of the game. But, honestly we should've expected a loss when you start Matt Murray against a good team. 
Pittsburgh currently sits 5th in the East with a 39-22-6 record for 84 points. They play host to the Hurricanes of Carolina, who are just on the outside looking in for a playoff spot. They hold a record of 36-25-5, which is good for 77 points. Expect Tristan Jarry in net for Pittsburgh.
With it being another afternoon game for the Pens, expect another loss. With the East being crazy bad this season, the Pens can't afford to continue losing games to conference foes. Seven points separate them and the first team on the outs, which is Carolina.
Former Penguin Jordan Staal is still with Carolina...he's not doing well but hey good on him for staying there and dealing with not winning anything.
One-time Hurricane Patrick Marleau faces off against his former team. Never actually played for them but it's fun to say.
Final score predictions: Penguins 3 Carolina 1.
What this team makes me do.  
Third jerseys again today. 

Pens will lose.

Expect Jarry in net.

Expect cheers for Jordan Staal

Vincent Trocheck will play today. HE'S FROM HERE!!!

​Who will be hurt this game...my guess Letang. 

Maybe Corona will get these teams and there won't be anymore hockey.

The Canes are 4-4-2 over their last 10.

I need a drink.

Game 68. Bring Jagr home.

The storm surge >>>> 

Follow along on Twitter - @PensOfAnarchy.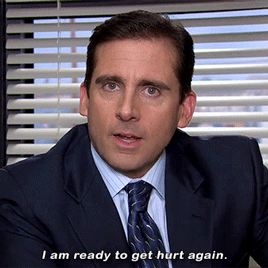 Do it.
Go Pens.


Please reload
Old Posts from our site, heyyyyyfannnssss (4/11-2/15). Cute name, but impossible to remember.
​